Dominican Nuns Ireland
July was a very busy month for the Dominican Order around the world and for our own
Monastery. Luckily we began the month with our 'Community Holidays' – a week for relaxation and renewal together, with less work so that we have more time to spend together.
The first and most important news! We have a new Master of the Order of Preachers: Fr. Gerard Francisco Parco Timoner III, O.P., a son of the Dominican Province of the Philippines and first Asian Master of the Order, was elected on July the 13th 2019, becoming the 87th successor of St. Dominic de Guzman.
Shortly before this election, we received a visit from our English Dominican Brothers and Sisters in Formation (Novice Sisters from the Stone Congregation and Novice Friars from the English Province, with their Novice Master). What a blessing it was for us to be able to welcome them and offer them an experience of our life. It was a joy to get to know our Brothers and Sisters from across the water and strengthen our bonds of communion. We will continue to pray for each other.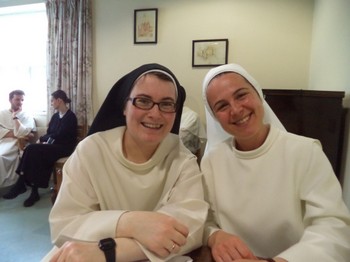 The day after their departure Fr. Paul Murray arrived for our Annual 8 Day Community Retreat. This was an inspirational and enriching time for us and we also enjoyed chatting with him after the Retreat was over.
There are no reviews yet.